The iconic devil costume at minimum consists of a set of devil horns. Devil costumes never go out of style and are not just for Halloween. Maybe you have little devils running around your house and you just want to spend some time doing a DIY devil costume project together. Or maybe you have a fun night out to an adult costume party, you sexy devil you!
There are many variations of the devil from Lucifer himself to the classic red devil we see in cartoons. You cannot go wrong with red when it comes to devil costumes. Or if you want to get into a variation go for the maleficent look featuring the black horns or add a long tail and darker scene like the urban legend of the Jersey devil.
Little Devil Kids Costume from Common Items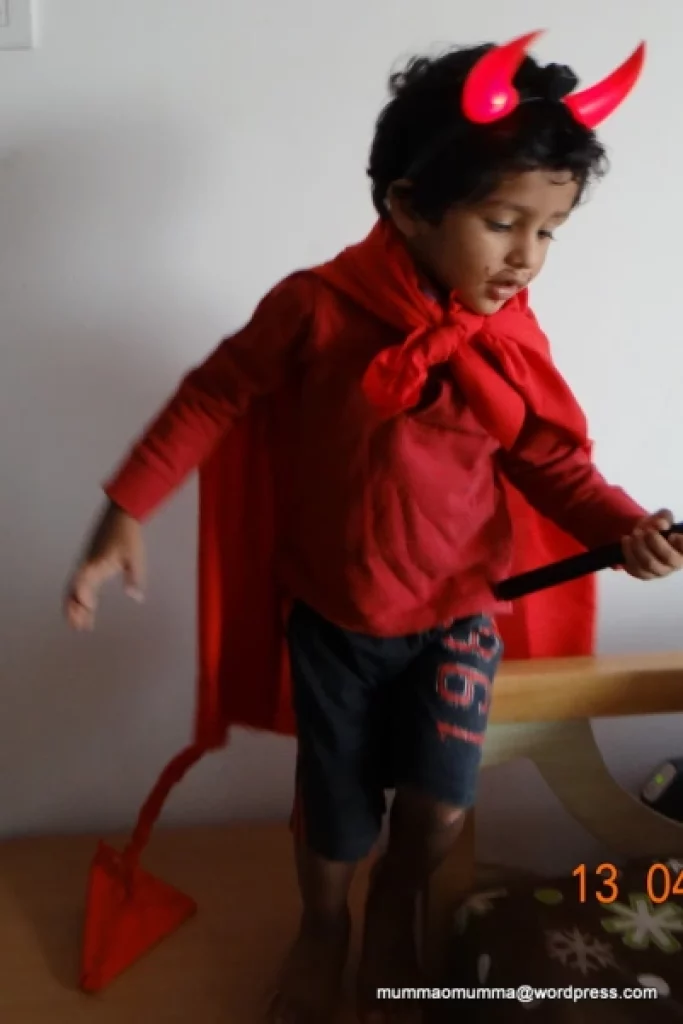 For this project you might need to hit up the local craft shop, but it can be done very inexpensively. It will really work with any outfit. The Devil horns are from a toy store but you can of course find them and most items on Amazon if you do not have a craft store nearby.
Foam Sheet- 5 inches X 5 inches
Marker Pen
Super Glue/ Strong glue
Craft glue
Red colored glitters/ Red shimmery acrylic paint
Hollow pipe or foil paper roll or a stick
About 1 Meter of red cloth. ( you can take 2 meters for older children)
Pillow fillers/ cotton roll
Pipe cleaners (optional)
Full instructions here
DIY Sexy Red Devil Costume
A sexy Devil always starts with a Red Dress! From there you simply need horns, red lipstick and of course a devils pick. This is a convenient party devil costume. The entire setup will cost between $25-60 dollars to pull off. But on the bright side you will have a red dress and red lipstick you can wear anytime. You can get a Red Dress quickly from Amazon and as low as $16.00
Mens DIY Devil Costume
Much like the sexy red devil this DIY devil costume starts with a red suit. You can quickly get a red party suit from Amazon ranging from $49-89 dollars. Pair with a subtle smirk and devil horns and you are good to go.

Devil Horns
Sometimes a DIY devil costume is as simple as just adding some horns. This is either an addition to the outfits we covered or you can run minimalist devil and go with just horns.
Next Level DIY Devil Costume Makeup
If you are going for a full on Devil cosplay you are going to need to up your makeup game. Luckily youtube has you covered with these step by step guides. These are not the easy red lipstick versions. These are horns and all!